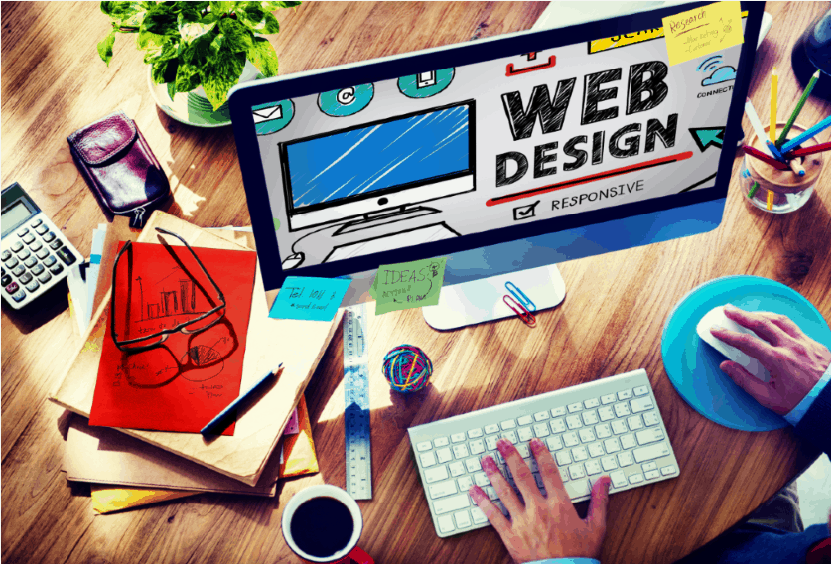 If you've got a business, then you need a website for that business. There's no ifs, ands, or buts about it—it's just a fact in today's marketplace. A website brings credibility and legitimacy to any enterprise, and without one, it's highly unlikely that your business will be found, visited, or even hired.
You may feel overwhelmed at the prospect of creating a website. However, you may be surprised to learn how easy and affordable it can be to launch a business website. Whether you need a site for a brand-new venture or for an established business, you can opt for the "do it yourself" approach or you can hire a co-pilot to guide you through the process. Either way, the steps—and the objectives—are the same:
Secure a domain name.

Your domain name is, quite simply, your website address. You'll want it to be as simple and succinct as possible to most clearly and quickly identify your business, like "www.businessname.com" or "https://yourbusinessname.com." The ".com" format is still the most common and recognizable in the U.S., but other extensions are growing and becoming more acceptable. You can easily search for the name you want through an online domain registrar (such as

Bluehost

,

GoDaddy

, or

Domain.com

, to name only a very few of the multitude of options). Once you determine that the name you want to use is available, you simply register and pay for it to make it yours for a specified amount of time.

Choose a website host. The host is the server where all your data is stored for 24/7 access to the public—the service that stores your website and transmits it to your online visitors. While there's a huge array of website hosts, you may want to consolidate the full continuum of services—your domain, hosting, SSL, and website design and development—under one umbrella company, like RWS. This can greatly simplify your website management, as you only have to deal with one point of contact to meet all your needs and to provide oversight of each individual service.
Pick a website builder. Again, the options are vast here. You can use a tool to actually construct your site (services like WordPress, Squarespace, Wix, and Weebly, for example); or, if you have neither the time nor the skills to create an effective and functional site on your own, you can hire a company to handle this whole phase for you.
Craft your content. Even if you hire a company to build and launch your website (as most people do), you'll have complete control over what the site actually consists of—the information to impart, the service or product you sell, your history and staff—with the "look" and "feel" you envision. When devising your content, think about the brand identity you want to solidify and the bottom-line messaging you must communicate. Research SEO guidelines before you start writing the copy. Choose a navigation setup that's utterly user-friendly and intuitive. Ensure that your site will be responsive across all devices ("optimized for mobile"), since more and more people search and shop on their smartphones now than on their desktop computers.
Most sites have a minimum of five web pages. Start with this sample template and see what else your particular site might need to tailor it to your industry and your client base:
Home: Here is where you want to make clear exactly what your business does and for whom. The design can be simple and the text doesn't have to be long, but you want every visitor to understand precisely what you do within the three seconds you have to grab their attention.
Products/Services: Specify what you offer in an easy-to-digest format like a bulleted list, block paragraphs, distinct categories. You don't want to be too vague or overly detailed; instead, you want to present enough useful and practical information that the visitor knows you can provide what they're looking for and what they have to do next to obtain it.
About Us: People really do want to do business with other people. So, offering your company's story and biographical information about the team members who bring that story to life is still a desirable and valuable part of any professional website.
Blog: Static pages might take care of the bare minimum these days, but if you want to appear in SERPs (search engine results pages), increase traffic, and get return visitors, you must publish new content regularly. A company blog is the easiest and most efficient way to do this.
Contact: Posting your address, phone number, a contact form, and so on is again about legitimizing your business, whether or not you have a brick-and-mortar location. Include as much contact information as is available to assure your online visitors that you have a real and reliable presence.
A few important things to remember about your various web pages: (1) They should each support and reinforce the main goal of your website; (2) they should each have a clear purpose of their own; and (3) they should each contain a direct call to action, as well as a way to contact you.
Test and publish your site. Before you're ready to go live, you'll want to ensure that all elements of your site (links, buttons, fillable forms) are working AND that the site looks and operates properly across all major browsers: Internet Explorer, Microsoft Edge, Safari, Chrome, Firefox. After publishing, don't worry if you want to change things as you go to respond to feedback, to keep content up-to-date, or to add new landing pages—like everything else in technology today, websites are managed and maintained in real time with a few taps on the keyboard and clicks of the mouse. Your website can evolve completely in line with your growing business!
BUT THAT'S NOT ALL. There's actually a lot more that goes into a business website than what this basic overview has covered, like an appealing design with customized images; regular template, plug-in, and security updates; encryption; SEO optimization; external services for accepting online payments; monthly maintenance and monitoring; performance analytics. And then there's the whole other issue of marketing your website and leveraging your social media to accomplish that. You can try to go it alone, but you don't have to.
Contact RWS Consulting today at 202-409-8113 to partner with us on creating your business website. We can manage the entire process for you—from conception to design to uploading to post-publishing maintenance and security—or we can step in only where and when you want assistance. The important thing is that you get started, and we're here to help you do that.